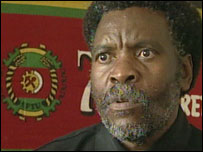 The leadership of Southern Africa Trade Union Coordination Council (SATUCC) and its affiliates are so bereft to learn of the passing of Swazi trade unionist and freedom fighter – Comrade Jan Jabulani Sithole on Friday 11th September 2020 at the age of 67.
Comrade Jan Jabulani Sithole contributed immensely to the workers struggle in Southern Africa through his active participation in various activities and committees of SATUCC at the time when he was serving as the Secretary General of Swaziland Federation of Trade Unions (SFTU) the now TUCOSWA.
In his home ground, Comrade Jan Jabulani Sithole played an instrumental role in the resuscitation of the trade union movement in e-Swatini following the ban through the 1973 decree by the King. For many years, he led from the front various workers' struggles and protest actions for multiparty democracy in e-Swatini. He has left a legacy of positive experiences for anyone who took the time to know him. For those who most likely did not know Cde JJ, can learn from this legacy which to us is a true affirmation of the goodness in humanity and leadership as demonstrated in the way he lived.
To his family, affiliates of TUCOSWA and members of SWADEPA, we are grateful for sharing the starlwart and selfless Cde Jan Sithole with all of us in the trade union movement not only in e-Swatini but the entire Southern Africa region at a time when such passion, bravery, courage and a voice for the people was needed the most.  We can only wish for moments of peace and comfort during this painful time of loss.
May His Soul Rest in Eternal Peace!
Heartfelt Sympathy,
Mavis A. Koogotsitse
EXECUTIVE SECRETARY